Mon 4 Dec 2006
Posted by RJO under
Technical
Comments Off

on Portable Apps
This has been written about a fair bit, but it's still worth a mention. All of the favorite open source (well mostly) application have been shrunk to execute from a thumbdrive!
It comes it two favours (standard and lite) and the regular version includes ClamWin Portable (antivirus), Firefox Portable (web browser), Gaim Portable (instant messaging), OpenOffice.org Portable (office suite), Sudoku Portable (puzzle game), Sunbird Portable (calendar/task manager) and Thunderbird Portable (email client).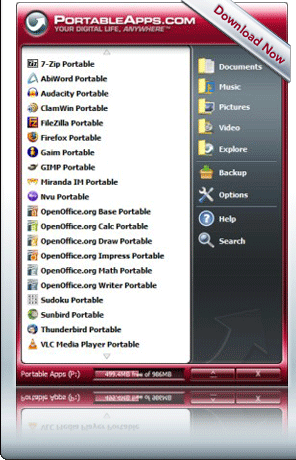 The suite will fit on a 512MB drive, whilst the lite version fits onto 256MB drive – it uses AbiWord Portable (word processor) instead of OpenOffice.org Portable.
Find out more at PortableApps.com
---
Comments are closed.